IPD 936 Medicine Trolley
Enquire about this item »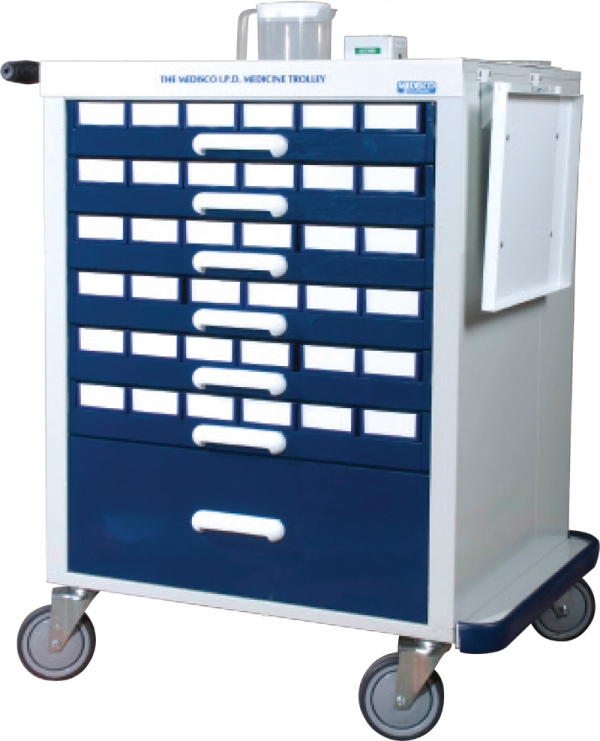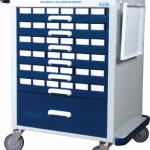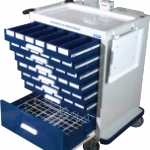 IPD 936 Medicine Trolley
Model Number:

IPD 936

Model Name:

IPD Medicine Trolley

Dimensions

W: 745mm D: 575mm H: 970mm

Category

Medicine trolley
Description
The Medisco IPD Patient Dispensing Medicine Trolley range is a secure, efficient and a convenient system for storing and distributing medicines. The IPD 936 is supplied with 36 individual patient bins, which can be easily removed for convenience of dispensing medicines and restocking.
SECURE
The trolley's steel construction is intrinsically safe and will with stand all but the most determined (and noisy) physical attack. Only the IPD range has a high security lock and a standard wall lock restrict access.
There are two visible indicators that the trolley is open. One key releases the trolley from the wall and unlocks all the drawers. No key is needed for re-locking. The drawers can be slam-locked after the central lock has been activated. Each high security lock is unique - key blanks are not available to casual buyers. Suites of keys with a master can be arranged. The lock core can be changed on site if security has been compromised by key loss.
The no-key slam lock facility, besides adding to the security of the trolley, is a major aid to efficiency.
EFFICIENT
Individual Patient Dispensing offers a very high degree of efficiency. It can reduce medicine round time by up to 40% with no loss of accuracy controlling medication through the mandatory separated storage.

CONVENIENT
All features of the trolley are accessible without disturbing the work surfaces. As an option, the lectern is a useful aid to dispensing. Each can be labelled and sub-divided (perhaps into daily doses).
The worktop has a lip to contain spillage. A folding side shelf can extend the working area. The lectern is a useful aid to dispensing as an option.
The drawers have easy glide runners and lift out for cleaning.
The big 125mm castors make movement easy. The non-marking bumper protects the trolley and its environment.
The exposed part of the patient bins is double skinned.
ECONOMIES
The IPD system will help to save money:
Better control of expensive drug distribution.
Patient compliance is easier to monitor thus saving wastage.
Unused stocks are more easily recovered.
IPD Standard Trolley Range
18 patients IPD 918 *
24 patients IPD 924 *
30 patients IPD 930
36 patients IPD 936
* There is space for additional patient drawers in these models

Features
Removable bins are arranged in drawers of six to accommodate medicine for each individual patient
Double width bins are also available – catering for fewer patients
Each bin has a label holder and up to four dividers can be fitted, each with a label holder
Wire baskets for stock bottles
A waste bin and water jug are built in
A lectern can be added as an extra option